Original Description:
Edit
This Hammer of Light warship seems to be a attack/assault carrier, similar to our Fury class. Of similar size, but has only one fighterbay. It appears to be more heavily armored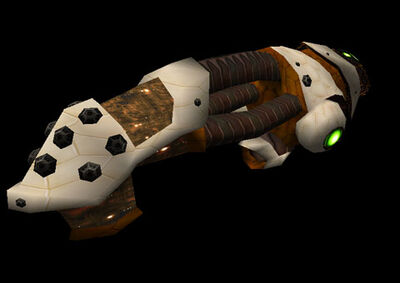 than the Fury. Strength of it's armaments is as of yet unknown.
Specifications:
Edit
Type: Corvette
Max Velocity: 28 m/s
Length: 1201 m
Turrets: 4xSOrange, 4xH-AAAf, 4xVasudan Medium Turret, 8xVasudan Turret, 8xHOL Defense Turret, 4xVasudan Anti-Bomber Turret
Model by: Venom, Woomeister, Reskin by Trashman
Ad blocker interference detected!
Wikia is a free-to-use site that makes money from advertising. We have a modified experience for viewers using ad blockers

Wikia is not accessible if you've made further modifications. Remove the custom ad blocker rule(s) and the page will load as expected.