FreeSpace: The Great War Description
Edit
The VAC 4 series of cargo is much like its normal counterpart, only it has much more plating. However, this container is no more dangerous than the standard version, and is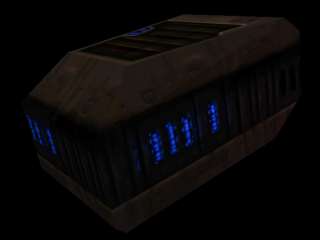 nothing more than ML-16 bait without protection of some kind.
FreeSpace 2 Description
Edit
The Vasudan VAC 4 is an armored cargo container that is used to transport fragile or valuable equipment to front-line bases. These containers are better protected than most combat spacecraft, giving their cargoes an excellent chance to survive collisions and stray energy blasts.
Specifications:
Edit
Type: Container
Length: 25 m