Original Description:
Edit
The slow and cumbersome Tanker has huge deuterium tanks. The range of your fleet increases as well as the time of support.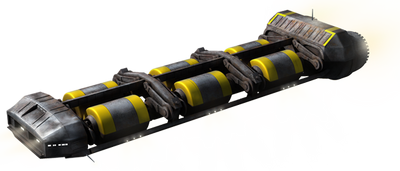 This tank ship measures around 800 m and extends your reach as well as the duration of your stay in a foreign orbit. Members of your fleet gain the fuel necessary for the flight home from the armored tanks. A crew of 25 is enough to manage the logistics.
Specifications:
Edit
Hull: 1200
Armor: 3
Number of Lasers: 1
Laser Strength: 1
Speed: 9
Energy Consumption: 15
Fuel Consumption: 20
Tank Capacity: 5000
Costs: 5280xMetal, 3600xCrystal, 3120xDeuterium
Construction Time: 6 hours, 15 minutes
Ad blocker interference detected!
Wikia is a free-to-use site that makes money from advertising. We have a modified experience for viewers using ad blockers

Wikia is not accessible if you've made further modifications. Remove the custom ad blocker rule(s) and the page will load as expected.