FreeSpace: The Great War Description
Edit
Almost no data is available on the Asmodeus freighter. We are aware that it has a strong hull and four turrets. Any further data on this ship should be immediately delivered to Terran Intelligence.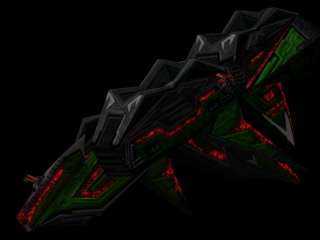 FreeSpace 2 Description
Edit
Little is known about the SFr Asmodeus line of freighters. With a strong hull and four weapon turrets, they are the most dangerous Shivan freighters to attack. Nothing is knownof the cargo Asmodeus freighters commonly carry.
Specifications:
Edit
Type: Freighter
Max Velocity: 50 m/s
Length: 123 m
Containers: SAC 2
Turrets:
FS1: 2xShivan Light Laser, 1xShivan Heavy Laser, 1xDisruptor
FS2: 2xShivan Light Laser, 1xShivan Heavy Laser, 1xStandard Flak