FreeSpace:The Great War Description
Edit
The Amun is the Vasudans' heaviest bomber class ship. It carries a massive payload and has been responsible for the destruction of at least 3 Orion-class destroyers in the past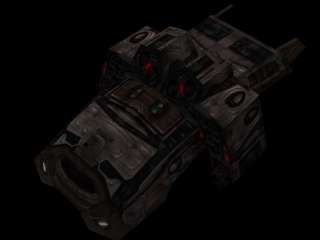 2 years. Fortunately, it is slow and has low maneuverability, making it an easy target for our fighters. Fighter pilots should be wary of the two turrets on this ship: they arenot to be ignored.
Specifications:
Edit
Type: Heavy Bomber
Manufacturer: PVN
Maneuverability: Very Poor
Max Velocity: 40-45 m/s
Max Afterburner Velocity: 80 m/s
Armor: Heavy
Length: 30m
Hardpoints: 4 (FS1 standard: 2xBanshee, 2xAvenger)
Missile Banks: 3 (FS1 standard: 60xTsunami, 60xSynaptic, 80xSynaptic)
Turrets: 2xBanshee
Ad blocker interference detected!
Wikia is a free-to-use site that makes money from advertising. We have a modified experience for viewers using ad blockers

Wikia is not accessible if you've made further modifications. Remove the custom ad blocker rule(s) and the page will load as expected.