FreeSpace 2 Description
Edit
The GTVA
Colossus
resulted from an endeavor unprecedented in Terran or Vasudan history. This 6-kilometer-long behemoth is the result of 20 years of joint effort from dozens of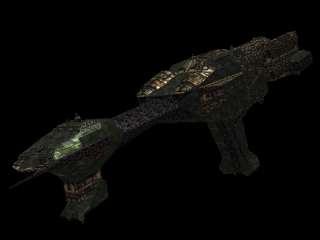 contractors of both races. The
Colossus
is the most powerful space-faring warship ever made, bristling with over 80 weapon turrets. It also houses 60 fighter and bomber wingsand requires a crew of over 30,000. The firepower of the
Colossus
is greater than that of most GTVA battle groups.
Specifications:
Edit
Type: Not specified
Manufacturer: AGAY Fluctuators, Akheton Corporation, Andsager Ballistics, Baranec Aquisitions, Bessimer-Kohn, Boone Thrusters, Capezzuto Textiles, Comet Propulsion Systems, Dave's House o' Fighters, Dynamic Metamer, Enricco Ergonomic Systems, Gulisaro Precision Gear, Johnson Munitions, Han-Ronald Corporation, Holt Bio Systems, KresCo Engineering, Kulas Management Systems, Mekhu Enterprises, Muller Constructors, Mesa Corporation, Nankam Aeronautical, RNI Systems, Pletcher Designs, Sahr Corporation, STX Exploration, Shekar Hydraulic Actuators, Snapka/Flegel Weapons Systems, Subach-Innes Corporation, Triton Dynamics, Velocity: A Camarillo Company, Wentz Acoustics, Whiteside Construction
Max Velocity: 25 m/s
Length: 6166 m
Fighter Compliment: 240
Turrets: 8xTerran Turret, 10xTerran Huge Turret, 12xStandard Flak, 8xMX-52, 2xPiranha, 10xAnti-Fighter Beam, 7xTerran Slashing Beam, 6xBig Green Beam
Ad blocker interference detected!
Wikia is a free-to-use site that makes money from advertising. We have a modified experience for viewers using ad blockers

Wikia is not accessible if you've made further modifications. Remove the custom ad blocker rule(s) and the page will load as expected.