FreeSpace: The Great War Description
Edit
The Advanced Amazon is a larger drone, used by the GTA for subsystem and large target training. They are unmanned and inexpensive.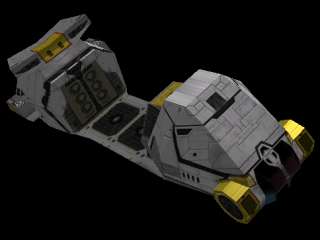 FreeSpace 2 Description
Edit
The GTDr Amazon Advanced Model VII was an unmanned combat drone used for advanced flight combat training. It was larger, smarter, and more heavily armored than the basic Amazon drone. As with the basic Amazon, these are now encountered only in the virtual battlefields of the TSM training module series. The Model VII is used to simulate assaults on enemy capital ships, training fighter and bomber pilots to target turrets and ship subsystems. Command has found that virtual training against Model VIIs increases the survival rate of pilots by 37% when attacking capital ships.
Specifications:
Edit
Type: Drone
Max Velocity: 50 m/s
Length: 164 m
Ad blocker interference detected!
Wikia is a free-to-use site that makes money from advertising. We have a modified experience for viewers using ad blockers

Wikia is not accessible if you've made further modifications. Remove the custom ad blocker rule(s) and the page will load as expected.