FreeSpace: Silent Threat
Edit
Another product of GTI R&D, the Zeus strike bomber is a worthy successor to the Athena. Its balanced design and increased reactor capacity give it remarkable speed for a bomber, yet still remains capable of carrying the powerful Tsunami bombs. These features will make the Zeus a versatile and effective weapon against capital ships.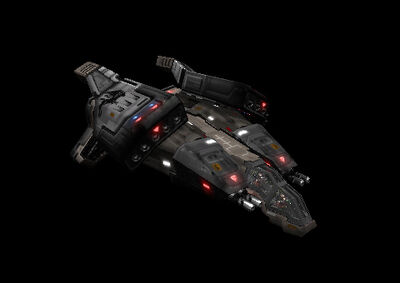 FreeSpace 2 Description
Edit
The GTB Zeus is the fastest of all currently active GTVA bombers. It replaced the fleet's old Athena bombers as they were mothballed during the years following the Great War. Though slightly slower than the Athena, the Zeus's heavier armor and armament give it a much better battlezone survivability rate. Many of the Zeus wings in the GTVA fleet defected to the NTF during the initial stages of the rebellion.
Specifications
Edit
Type: Strike Bomber
Manufacturer: Dynamic Metamer
Maneuverability: Poor/Average
Max Velocity: 55-75 m/s
Max Afterburner Velocity: 110 m/s
Armor: High/Medium
Length: 20m
Hardpoints: 4 (FS1 standard: 2xAvenger, 2xFlail)(FS2 standard: 2xPrometheus R, 2xPrometheus R)
Missile Banks: 3 (FS1 standard 40xPheonix V, 40xStiletto, 40xSynaptic)(FS2 standard: 40xTrebuchet, 40xStiletto II, 40xPiranha)