FreeSpace 2 Description
Edit
Ships of the GTA Charybdis class have been packed with the latest tachyon-enabled AWACS equipment from GTVI labs. Each GTVA battle group has a squadron of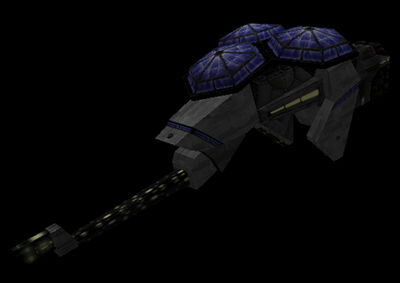 Charybdis-class ships assigned to it. These ships double the range of the group's standard detection arrays. Charybdis ships' thin armor and weak defenses make them easy victims for enemy bombers. They have proven indispensable, however, in forays into the nebula beyond the Knossos portal. Charybdis-class ships are very vulnerable in thisenvironment, as witnessed by the recent loss of the GTA Panopticon from the 3rd Battle Group.
Specifications:
Edit
Type: Awacs
Max Velocity: 20 m/s
Length: 181 m
Turrets: 4xTerran Turret Weak, 1xSubach HL-7
Ad blocker interference detected!
Wikia is a free-to-use site that makes money from advertising. We have a modified experience for viewers using ad blockers

Wikia is not accessible if you've made further modifications. Remove the custom ad blocker rule(s) and the page will load as expected.