Nexus: The Jupiter Incident Description
Edit
None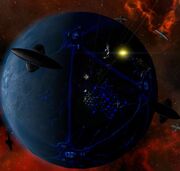 This huge structure can be seen during the mission "The Fall of the Vardrags" orbiting the planet Chakris. There are no specifications, and lenght is hard to be appreciated. A model of it is found in the game directory, but it holds no significant informations.
Ad blocker interference detected!
Wikia is a free-to-use site that makes money from advertising. We have a modified experience for viewers using ad blockers

Wikia is not accessible if you've made further modifications. Remove the custom ad blocker rule(s) and the page will load as expected.